Who We Are
Vizmonet is a Singapore based company founded in 2011 with a prime focus on the design and manufacture of Carrier-Class-Customized™ Wireless Connectivity Solutions. Our Built-to-Customize™ wireless solutions in the form of modules and complete systems drive a variety of applications that have been deployed globally by our OEM customers across various industry verticals. For more than a decade, Vizmonet' s Core RF design and manufacturing expertise has helped many OEMS to anchor a niche position in the wireless ecosystem.
Customer Journey with Vizmonet
While embarking on this journey, every Customer enjoys the best experience offered by Vizmonet' s Quality with no-compromise and Best-in-Class Support.
For Vizmonet, the first touch point of this journey with customer is normally Engineering. Post development, the touch point expands to all the product groups of the customer that needs support, be it testing team or operation & planning team or finance or Sales & Marketing and so on.
Vizmonet team works relentlessly to support customer using our expertise in lead time management, urgent order fulfilment, regulatory approvals & geography specific product homologation.
The scope of Vizmonet support does not end up with first degree connections. Vizmonet extends the support to next level of the value chain. It is very common to get the support call from Customer's Customer with regard to issues like Product homologation. Every request of the Customer is treated at Vizmonet with utmost care and attention to detail.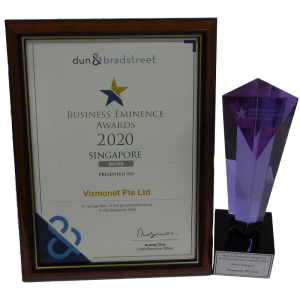 D&B Business Eminence Award 2020
Vizmonet is honoured to receive this award for 2020 from Dun & Bradstreet, a name trusted by millions worldwide for more than 175 years. This is a very important recognition for the company at a time, when the global economy is hampered by the covid-19 pandemic. And this is indeed a great testament to the company's performance and hard work over the years, thanks to the team and strong support from customers and suppliers.
About D&B (https://www.dnb.com)
Founded in 1841, for almost 179 years, Dun & Bradstreet has helped clients and partners grow and thrive through the power of data, analytics, and data-driven solutions. Nearly 5,000 employees around the world are dedicated to this unique purpose, guided by important values that make us the established leader in commercial data and insight. With rich proprietary data assets and a world-class team, Dun & Bradstreet helps companies leverage data and analytical insights to take more intelligent actions that deliver a competitive edge. Data and insights are delivered through the Dun & Bradstreet Data Cloud and the solutions it powers.
Our Mission
Vizmonet is a front runner in driving the Industrial Wireless ecosystem by manufacturing & supplying High-Performance Carrier Class Radio solutions, custom crafted and engineered with fine precision. Backed by several satisfied OEM Customers endorsing our field-proven Performance, Vizmonet is committed to Value Creation and Continuous Innovation in Wireless Communication Product development. We aspire to be the default choice of go-to-vendor for custom-design of Wireless communication modules and systems.
Vizmonet Work culture is well knitted with following Core Values (ICLEC)
Integrity
Continuous Innovation
Leadership – nurturing 360-degree leadership
Excelling at every effort
Customer Care
These core values drive us in day-to-day activities, motivate us to keep innovating and perform under great team collaboration, remain as guiding light to excellence. They help us navigate through difficult times and achieve success. They are integral part of the culture and intrinsic to who we are and are as unique as our fingerprints.

Vizmonet is and has been an important and trusted partner to Rajant Corporation for more than 10 years. Their ability to meet our demanding performance requirements as well as their close working relationship with our development team has provided great benefit to both companies. Rajant looks forward to working with Vizmonet as we continue to expand our Kinetic Mesh products into new markets.
We wish to take this opportunity to express our profound gratitude for the excellent service rendered by Vizmonet. We embarked on this journey with WiSUN Mesh Transceiver development project, and it was brought to timely completion exceeding all our expectations. It gives us great pleasure to express our appreciation through this letter of commendation. We are happy and proud of our product, and appreciative of Vizmonet in sharing our journey to develop our dream product connyonair© WiSUN Mesh Transceiver.